This course teaches the basics of extended care in low resource environments where definitive care may be moderately delayed or inacessible.
This course has no prerequisites. Upon successful completion, participants receive certification, valid for three (3) years.
This course meets the recommended curriculum of the Wilderness Medical Education Collaborative and successful graduates will be awarded both a WFA and AFA certification.
2-Day Course Schedule
3-Day Course Schedule
2-Day Course Schedule
Day 1: Introduction, Logistics, Austere Context, General Principles, Vital Signs, Patient Assessment, BLS, The Circulatory System, The Repiratory System
Day 2: The Nervous System, Anaphylaxis, Snake Kite, Lightning, Drowning, MSK Injury, Wounds & Burns, Exposure Illness, Exam
3-Day Course Schedule
Upon successful completion of the course, participants receive an internationally recognised certification from Austere & Emergency Medicine International in Wilderness First Aid (WFA) and Austere First Aid (AFA), valid for three years. Re-certification can be achieved by taking the course again.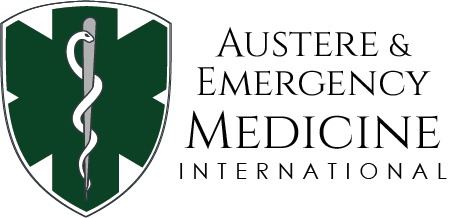 Courses in Selangor
Other Courses
Courses in Selangor
The course starts promptly at 0830 each morning and will end around 1800 hrs. Please be prepared to commit additional time to homework and self study.
Accomodation
In terms of accommodation, there are three very convenient places to stay close to the training venue which can be booked using Agoda/booking.com etc. There are a few restaurants for breakfast/dinner.
M Design Hotel– Budget Friendly. 10 minutes by taxi, 34 minutes walk (2.7 km)
Garden Inn Hilton – A little more comfortable. 15 minutes by taxi. Not walkable. (9.2 km)
Le Meridien – More upscale. 10 minutes by taxi (8.4km)
If you want to stay in another part of the city the city you can expect to spend 30-60 minutes each way in a taxi.
Catering
Course fees include 2 lunches, tea, coffee, water, fruit and light snacks.
What to bring
Participants should bring a notepad and pen. Water, coffee, tea, light snacks and lunch will be available. Participants will also require an internet connected device to complete the exam.
Those attending should wear sturdy, closed toe shoes, a raincoat and clothes that are ok to get wet/dirty/ripped/stained.
Other Courses