AUSTERE MEDIC
5-Day Hybrid
(AM + WEMT)
AUSTERE MEDIC
5-Day Hybrid
(AM+WEMT)
Embark on a transformative journey into the realm of Austere Medicine. This intensive program is tailored to medical professionals, emergncy medical technicians, first responders, nurses, search and rescue teams, distater medical assistance teams, remote professions, and adventurers who are eager to master the art of delivering high-quality medical care in austere and resource-limited environments. From remote wilderness locations to disaster-stricken areas, this course equips you with the expertise to thrive in the face of adversity.
This course requires participants to have a current EMS license (where applicable) or EMT-B or other accepted level 3 certificate in a healthcare related discipline, as well as a current, recognized BLS certificate. Experienced First Responders will be considered on case-by-case basis.
This course is equivalent to the level Wilderness EMT (WEMT).
Upon successful completion, participants receive certification, valid for three (3) years.
The Austere Medic Advantage
1. Specialized Curriculum: Our Austere Medic Course delves into advanced medical techniques that are specifically designed for situations where conventional resources are scarce. You'll gain a deep understanding of improvisational techniques, medical triage, and adaptation to challenging conditions.
2. Cutting-edge Training: Led by seasoned medical professionals with extensive experience in austere settings, our instructors bring real-world insights to the training. They guide you through realistic scenarios, ensuring you're prepared to make critical decisions in high-pressure situations.
3. Resourcefulness and Adaptability: This course hones your ability to think on your feet and adapt your medical skills to the available resources. You'll learn to create makeshift medical tools, administer care in unconventional settings, and effectively manage limited supplies.
4. Risk Management & Safety: In austere environments, safety is paramount. Our training covers tactical medicine strategies, teaching you how to navigate dangerous situations while providing medical aid to those in need.
5. Remote Communication Strategies: Communication is a lifeline in austere situations. You'll learn effective communication techniques that bridge the gap between medical professionals and remote teams, ensuring seamless coordination and optimal patient care.
6. Certification and Recognition: Upon successful completion of the course, you'll earn a prestigious Austere Medic certification. This credential is a testament to your mastery of advanced medical skills and your ability to excel in the most challenging conditions.
7. Professional Network: Join a network of like-minded individuals who share your commitment to providing exceptional medical care in austere environments. Connect with fellow participants and instructors, fostering valuable relationships that can enhance your future endeavors.
8. Career Advancement: For medical professionals and first responders, this course opens doors to specialized roles and deployments. It equips you to contribute effectively to disaster response teams, humanitarian missions, and remote medical expeditions.
Note: There is no final written exam for this course, you must pass the theory exam before arriving. Summative assessment is 100% practical.

Day 1
Welcome & Logistics, Review of the Austere Context, High Performance Team Based Resuscitation
Critical Systems Review
Day 2:
Cardio/Respiratory Emergencies
Spine Injury, Joint Dislocations
Day 3:
Depart for Camp
Simulation 1
Day 4:
Simulation 2
Simulation 3
Break Camp
Day 5:
Upon successful completion of the course, participants receive an internationally recognised certification from Austere & Emergency Medicine International as an Austere Medic (AM), valid for three years. Re-certification can be achieved by attending a refresher course, or by completing a portfolio of ongoing learning and taking the re-certification exam.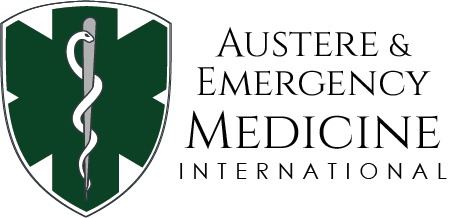 Eligible graduates from other recognized wilderness or austere medical schools may recertify their WEMT / Austere Medic with this course.

Candidates wishing to recertify must have a current WEMT or AM certification (unexpired or within the grace period of the issuing school) earned in one of the following course types:

A recognized WEMT, WEMS or

AM

course

with a

minimum of 45 hours

of

in-person

instruction

.
An eligible recertification course with a minimum of 24 hours of in-person instruction.
To recertify, you must attend a minimum of 3 full days of the course, pass the practical assessments for BLS, Choking & Anaphylaxis, and pass the cognitive assessment.
The course starts promptly at 0830 each morning and will end around 1800 hrs. Please be prepared to commit additional time to homework and self study. Evening sessions will be available for those requiring additional assistance.
Days 1 & 2 will take place in the classroom. On the morning of day 3 we will head out to a remote location, camping for one nights. Please bring personal equipment necessary for camping. Tents and cooking equipment will be provided.
Accomodation
Accomodation is not included in the cost of the course, howver there are plenty of affordable, nice options in the vicintiy.

Catering
Course fees include 5 lunches, tea, coffee, water, fruit and light snacks and all meals whist camping.
What to bring
Participants should bring a notepad and pen. Water, coffee, tea, light snacks and lunch will be available.
Those attending should wear sturdy, closed toe shoes, a raincoat and clothes that are ok to get wet/dirty/ripped/stained.
Partial scholarships and bursaries are available on this course. For more information:
https://aemed.net/sponsorship/
There are currently no AM-EP courses scheduled. Please enquire now to be added to the notification list for the next course, or to find out about hosting a course for your organisation.