AUSTERE FIRST
RESPONDER
(AFR)
+
WILDERNESS FIRST
RESPONDER
(WFR)
AUSTERE FIRST RESPONDER (AFR)
+
WILDERNESS FIRST RESPONDER (WFR)
The authoritative austere medicine course for remote professionals and leaders who operate in low-resource, remote and other austere environments where difinitive care may be severely delayed or inaccessible.
This course has no prerequisites, however requires significant prework for those with no prior medical training. Upon successful completion, participants receive certification, valid for three (3) years.
This course meets the recommended curriculum of the Wilderness Medical Education Collaborative and successful graduates will be awarded both a WFR and AFR certification.
Day 1: General Principles, Vital Signs, Patient Assessment, BLS
Day 2: Patient Assessment (ctd), Anatomy & Physiology, Critical Systems Problems
Day 3: Lifting Moving & Extrication, The Spine Injured Patient, Litter Carries, Improvised Litters
Day 4: Musculoskeletal Injuries, Extremity Splinting, Dislocations, Simulation
Day 5: Allergy & Anaphylaxis, Asthma, Wounds & Burns, Exposure Illness & Injury
Day 6: Toxins & Envenomations, Arthropod Disease Vectors, Problems with Sugar, Submersion Injury, Electricity & Lightning Injury
Day 7: General Austere Medicine, Simulation
Day 8: Medical & Rescue Equipment, Humanitarian & Austere Considerations, Elective Topics, Final Exam
Upon successful completion of the course, participants receive an internationally recognised certification from Austere & Emergency Medicine International in Wilderness First Response (WFR) and Austere First Response (AFR), valid for three years. Re-certification can be achieved by attending a refresher course, or by completing a portfolio of ongoing learning and taking the re-certification exam.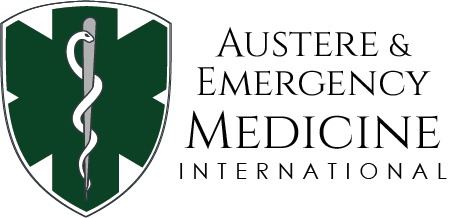 Eligible graduates from other wilderness medical schools may recertify their WFR with this course.

Candidates wishing to recertify must have a current AFR or WFR certification (unexpired or within the grace period of the issuing school) earned in one of the following course types:

An AFR or

WFR course

with a

minimum of 72 hours

of

in-person

instruction

,




An AFR or

WFR minimum

72-hour Hybrid course with a minimum of 45 hours of in-person instruction, or


An AFR or

WFR

R

ecertification course with a minimum of 16 hours of in-person instruction.
To recertify, you must attend a minimum of 3 full days of the course, pass the practical assessments for BLS, Choking & Anaphylaxis, and pass the cognitive assessment.
Candidates who enroll in the recertification option are entitled and encouraged to attend 4 full days. If you wish to attend for more than 4 days, please select the "Full Course" option.
The practical assessments for BLS, Choking & Anaphylaxis take place on Day 1, but may be available on the evening of day 6 by arrangement. The cognitive assessment takes place on day 8, but may be available on the evening of day 3 by arrangement.
Start Date: Sunday 31 July 2022
End Date: Sunday 7 August 2022
The course starts promptly at 0830 each morning and will end around 1800 hrs. Please be prepared to commit additional time to homework and self study.
In terms of accommodation, there are three very convenient places to stay right next to the training venue which can be booked using Agoda/booking.com etc. There are a few restaurants for breakfast/dinner and a nearby wet market which are in easy walking distance:
B2 Mountain Pano– Right next door to our office, mid-price. There are a few B2 locations, so make sure you book the Mountain Pano one.
Chotana Villa– Just down the street and across the street from our office. More upscale with a pool.
Chang Hotel-inexpensive option down the street from our office.
If you want to stay in another part of the city the city you can expect to spend 30-60baht each way for the local taxi or a Grab taxi to areas like Old City or Nimmanheiman Rd which have lots of accommodation and dining options.
Course fees include 8 lunches, tea, coffee, water, fruit and light snacks.
Participants should bring a notepad and pen. Water, coffee, tea, light snacks and lunch will be available.
Those attending should wear sturdy, closed toe shoes, a raincoat and clothes that are ok to get wet/dirty/ripped/stained.