EMERGENCY MEDICAL RESPONDER (EMR)
EMERGENCY MEDICAL RESPONDER (EMR)
The EMR is taught to the US National EMS Scope of Practice Model. Emergency Medical Responders provide immediate lifesaving care to critical patients. EMRs have the knowledge and skills necessary to provide immediate lifesaving interventions while awaiting additional EMS resources to arrive. EMRs also provide assistance to higher-level personnel at the scene of emergencies and during transport. Emergency Medical Responders are a vital part of the comprehensive EMS response. Under medical oversight, Emergency Medical Responders perform basic interventions with minimal equipment.
EMRs often work in organisational Emeregency Response Teams, as well as with Emergency Medical Services providers.

The course runs over three weekends.
Day 1: EMS Fundamentals, Patient Assessment, Anatomy & Physiology of the The Respiratory System and associated pathophysiologies
Day 2: Patient Assessment (ctd), Anatomy & Physiology of the The Circulatory System and associated pathophysiologies
Day 3: Medical Ilness & Emergencies, Paediatrics, Geriatrics
Day 4: Traumatic Injury
Day 5: Operations, MCIs, Disasters, Terrorism, Special Operations
Day 6: Final Exam
Upon successful completion of the course, participants receive an internationally recognised EMR certification from Austere & Emergency Medicine International, valid for two (2) years. Re-certification can be achieved by attending a refresher course, or by completing a portfolio of ongoing learning and taking the re-certification exam.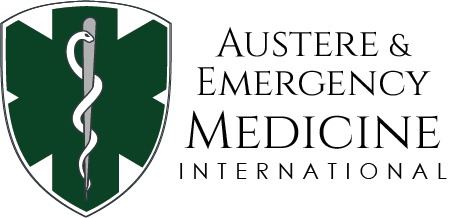 The course starts promptly at 0830 each morning and will end around 1830 hrs. Please be prepared to commit additional time to homework and self study.
Accomodation
In terms of accommodation, there are three very convenient places to stay close to the training venue which can be booked using Agoda/booking.com etc. There are a few restaurants for breakfast/dinner.
M Design Hotel– Budget Friendly. 10 minutes by taxi, 34 minutes walk (2.7 km)
Garden Inn Hilton – A little more comfortable. 15 minutes by taxi. Not walkable. (9.2 km)
Le Meridien – More upscale. 10 minutes by taxi (8.4km)
If you want to stay in another part of the city the city you can expect to spend 30-60 minutes each way in a taxi.
Catering
Course fees includes lunches on course days, tea, coffee, water, fruit and light snacks.
What to bring
Participants should bring a notepad and pen.
Those attending should wear sturdy, closed toe shoes, a raincoat and clothes that are ok to get wet/dirty/ripped/stained.